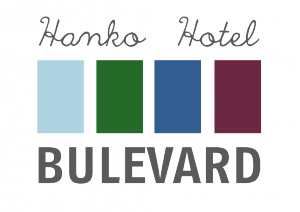 Butique Hotel Bulevard Hanko is a family business driven by father and daughter. We wanted to create a nice, friendly and easy going accommodation service for all kind of people. We believe we managed to do so.
The building of Hotel Bulevard was previously an old police station. To keep a bit of history we left six rooms with the names "Putka", which means in Finish cell.
The other room's inspiration for interior is given by well-known Finnish designers such as: Tapio Wirkkala, Kaj Franck, Ilmari Tapiovaara, Nanny Still, Gunnel Nyman, Ritva Kronlund, Birger Kaipiainen and Erik Bruun. The overall hotel's interior has been designed and implemented by Inredningslabbet Ltd.
We have variety of rooms: single rooms, double rooms and rooms even for 4 persons. The rooms are divided to four categories. There are:
9 rooms with bathroom
6 rooms without bathroom or toilet
5 "cell rooms" built in to the old police station's cell (with toilet and sink)
2 Family rooms (2 rooms combo)
For the rooms without bathrooms we created common bathroom areas, where there are showers and sauna available 24h/day.
Hotel Boulvard is located in the walking distance from the beaches, restaurants, and tennis courts. The shopping area (Vuorikatu) is within 100 meters. Railway station is about 500 meters distance. There is also an East Harbour, which is the guest harbour (Itäsatama) and is located in a distance of 400m.